The booming LTE market will translate into 17 percent revenue growth for the overall global mobile communications equipment market in 2012, according to a new report from IHS iSuppli. The report is one of a recent spate of surveys and analyses projecting strong growth in the LTE infrastructure market.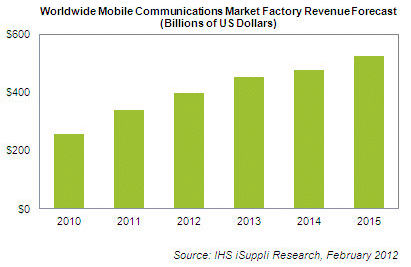 Click here for details from the report.
According to iSuppli, factory revenue for the mobile communications market in 2012 is projected to reach $398 billion, up 17 percent from $340.8 billion in 2011. IHS defines "mobile communications equipment factory revenue" as what manufacturers earn from the sale of devices into the channel--in this case, mobile communications equipment such as smartphones and other handsets, as well as wireless infrastructure gear such as routers.
Part of the growth in the overall market in 2012 will be driven by the expanding market for LTE handsets, which other research firms have also predicted. The market for LTE handsets this year will account for $21.7 billion of the total mobile market revenue, according to iSuppli. However, revenue for such devices in 2012 will rise by 372 percent from $4.6 billion in 2011.
Although the projected pace of growth in the mobile communications equipment market is down from the 32 percent growth iSuppli recorded for 2011 over 2010, iSuppli still thinks the market will continue to grow at a rapid rate, crossing the half-trillion dollar mark by 2015.
The new report comes on the heels of a pair of recent surveys on the LTE infrastructure market. One, also from iSuppli, found that spending on LTE infrastructure worldwide is set to more than triple from $8.7 billion this year to $24.3 billion next year. Another, from the Dell'Oro Group predicted that the LTE equipment market overall is going to grow at a compound annual growth rate of 45 percent over the next five years. The research firm said shipments macrocell-related network gear will drive LTE revenues in the near term, but that outdoor metro and pico eNode B equipment will begin to exceed macro shipments in 2016.
For more:
- see this release

Related Articles:
Fresh research forecasts LTE spending surge
Report: LTE infrastructure to reach $27.9B by 2014
ABI: 500,000 TD-LTE base stations will be deployed by 2016